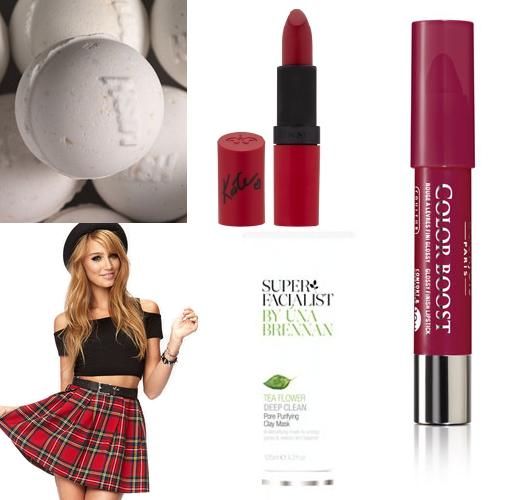 These are some products I have been lusting over for a little while now! I also want to direct my family to this post for a not-so-subtle hint!
1.
Lush Butterball Bath Bomb
-
link
- I have seen such good things about this bath bomb, I just need to try it! Added to that, it's my favourite scent- cocoa butter.
2.
Rimmel Kate Lasting Finish lipstick 107
-
link
- Another product floating around the blogs but I'm going to put it out there... I don't like Kate Moss. I can't quite put my finger on what it is but I just don't like her, so much so I refuse to buy her products. A gift doesn't count though, right?
3.
Bourjois Colour Boost Plum Russian
-
link
- I love lip crayons and this shade is so winter appropriate, I may have to buy it for myself...
4.
Superfacialist bu Una Brennan Tea Flower Deep Clean Pore Purifying Clay Mask
-
link
- Isn't that a mouthful and a half?! The last time I tried a clay mask it broke me out quite badly. I know it's meant to do this, pulling out the impurities and all but the break out was awful! I don't want to give up on clay masks all together so this would be a nice one to try as it sounds quite gentle.
5.
Forever 21Cool Girl Plaid Skirt
-
link
- Oh, how I am jealous of you American girls! This is the perfect tartan skirt I have been searching for and it's only on the American Forever 21 site.
Sob!
The search continues...
What would be on your Christmas list?